History of leather vest.
The reasons why leather vests are in a fashion are similar to leather jackets as well. Leather vests can help in getting protections and the main reason they were made was to have a lighter substitute of leather jacket. If you tend to feel that leather jackets are heavy, then leather vests can be the best substitute when it comes to providing a similar but lighter type of protection.
Leather vests can protect the middle section of your upper body and leaving the rest of the body parts open. Just how leather jackets when from practical apparel to a fashion item leather, leather vest have gone to through the same things as well. Leather vests are versatile and attractive as well.
Styling with leather vests:
After searching and comparing different designs and styles you must have go to the one leather vest which suits you and your personality in the best possible way. So, how do we style a leather vest for everyday purposes? There are different types of styles which you can pull with your leather vests just how you would do with your other leather apparels.
Here are different ways you can style your leather vests:
Formal: leather vest can be considered as a perfect apparel to add to your formal attires, especially for men. It is not recommended to add a leather vest to your wedding outfit, but no one is stopping you to do so but opt for a darker shade.
A more preferred place for your leather vest will be any formal environment like office or meetings. You can add your leather vests as a 3-piece-suit. You can choose a leather vest which is a bit lighter than your shirt and choose a tie accordingly.
Things are a bit different when it comes to ladies because it will not go well with dress like gowns, but they are more preferred when worn with something casual.
Casuals: leather vests are great when it comes to casual attires, for men you can pair them with jeans. The color of your denim does says that how casual your outfits are, and the same thing applies to your vest. You can pair some relaxed apparels like a tee or a shirt and in the footwear section you have options like sneakers and boots.
You have to make sure that your leather vests go with the remaining of the attire and you can have a lot of casual wears.
When it comes females, things are similar because of the versatility. Women can pair their leather vests with different casual clothes like jeans and a relaxed top. The footwear is something which can make a difference like there are different footwears which you can add to your attire from heels to sneakers. When it comes to colder months you can opt for some boots.
Is custom a great option?
Going for a custom-made leather vest is a great idea because of the different benefits it comes with.
Here are some reasons why you should go for a custom-made leather vest: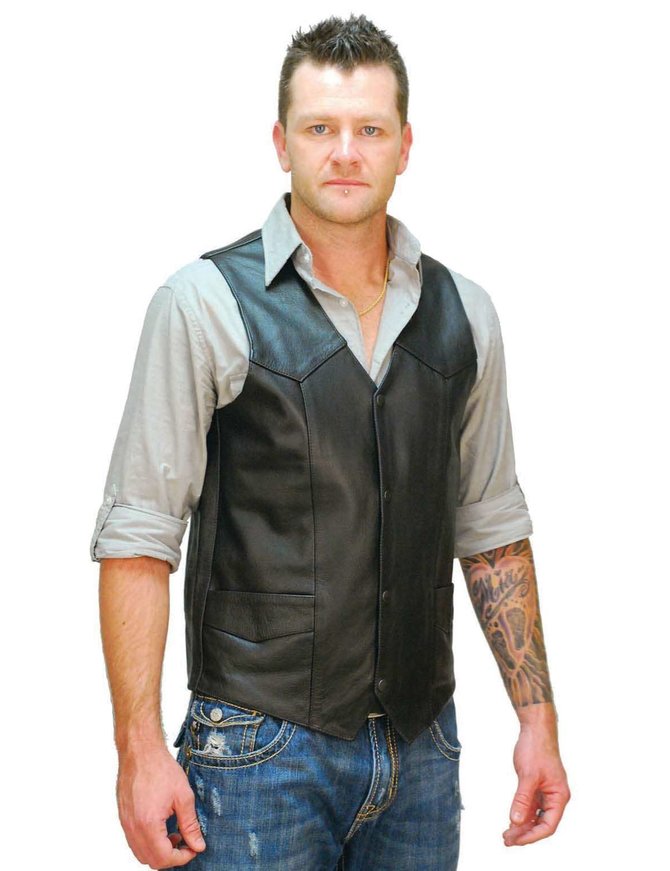 A custom-made leather vest comes with some great uniqueness which is unmatchable. A custom-made leather vest is something which only made for you and as per your requirements which will suit your personality and style in the best way. This allows the customer to express themselves in different ways. Custom-made leather vest will have everything the customer wants in their leather vests.
Custom made leather vest have one of the best fittings. This does not mean that the regular sizes are bad, but custom made are simply perfect because they are made as per the exact measurements.
There are a few things which you should consider before going for custom-made leather vests. The main disadvantage about a custom-made is that they are on the expensive side. There are affordable options as well but when it comes to vest made from real leather it will be a bit expensive manly because of the uniqueness and efforts it takes to make a custom-made leather vest.
Nonetheless, you can still look for other brands and manufacturers who provide a more affordable custom-made leather vest. Another disadvantage of custom-made leather products is the return policies. As they are custom made returning or exchanging the item can be a difficult thing to do unless there is a mistake made by the manufacturer.