Leather Trench Coats are in the fashion world from a very long time and they have ruled the coats section for some serious amount of time and are still doing it. As the time went on there are some minor changes done to them like the shape, pocket, etc. but most of it is still the same as it used to be many years ago.
There are new styles available as well like the double breasted trench coats which also come with adaptable collar. A lot of different designers are working on to bring some new design to leather trench coats.
There are some new styles which has been vital in bringing new shoppers towards leather trench coats. There are styles in different breast lengths, belts, etc.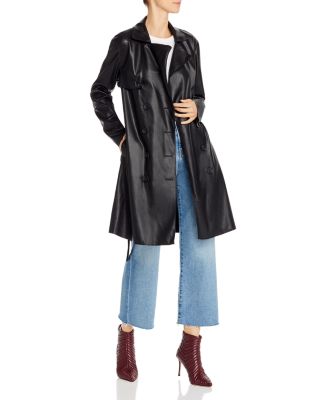 Trench coats were initially used for protection against rain and cold winds but now then can be worn in other seasons as well.
Leather trench coats have attracted a lot of celebrities and models as you can see a lot of them pulling it off.
Leather trench coats are available for both men and women. You can pair these coats with different apparels like shirts, pants, jeans, etc.
There are a lot of other options which you would like to consider like colors and length which does increase the radius of fashion. The most preferred color for leather apparel is the classic black color and you can get it in almost every style and size.
Trench leather coats are something which are really versatile just like most of the leather items and you can wear them to any occasion. Leather trench coats are more like an investment as they will stay with you for your whole life but makes sure that you're taking good care of it but if you fail to do it that there are high chances that it will lose its quality and appearance before time.