Culottes are the type of bottoms you should look for autumn and summer while are loose airy. Pairing them can get a little tough but not impossible.
Culottes are still on the trend which means you can wear them in autumn and summer. There are many stylish and attractive outfits you can make with the help if leather culottes. First, you need to start with color; choose whatever color suits you the best and if you're too confused or lazy to do so than you can go with black. After you have chosen the perfect color the real experiment starts with different textures for example wearing leather pants, denim shirts and a suede jacket.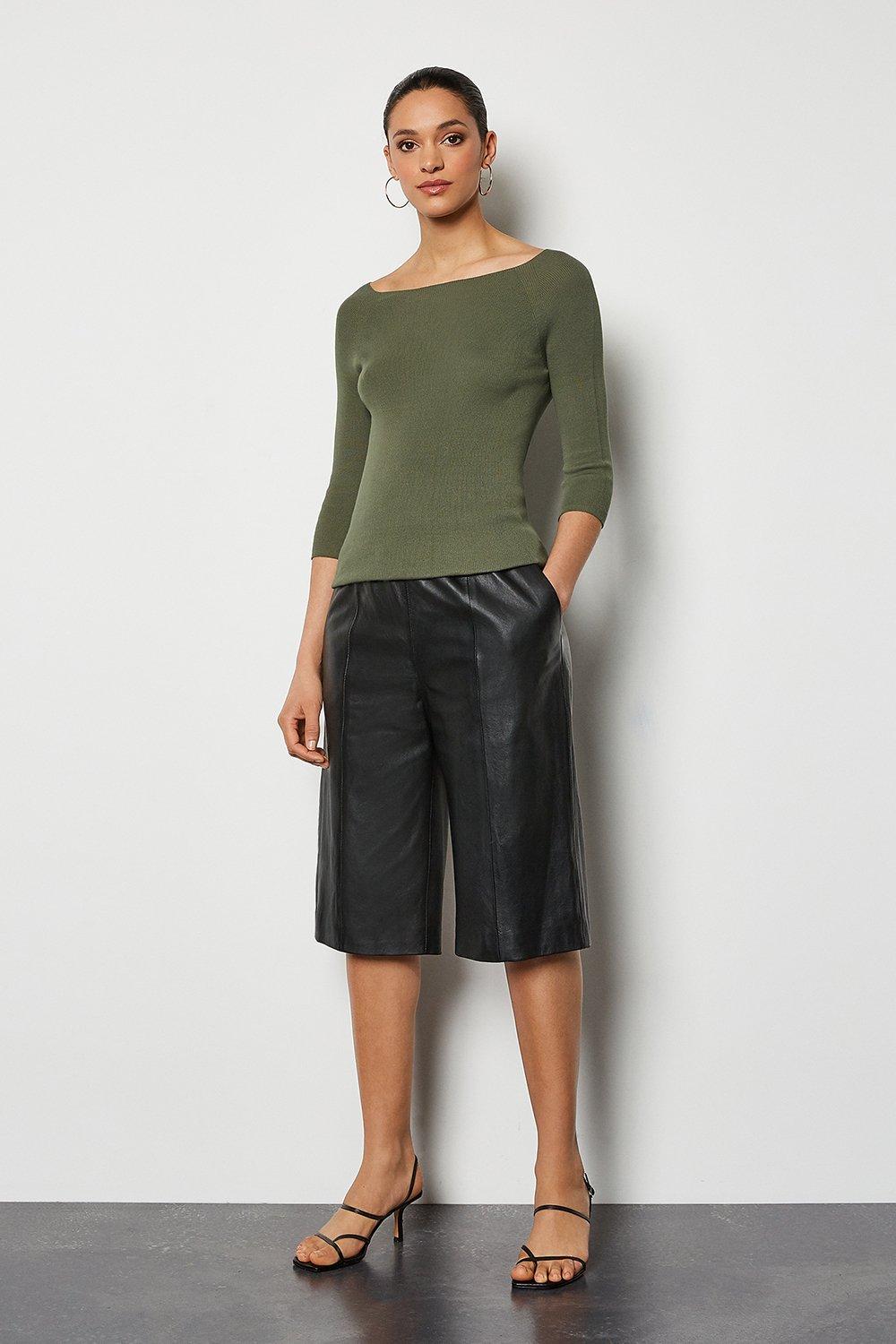 CULOTTES WHICH CAN MIMIC A SKIRT
When it comes to culottes the reviews are between old-fashioned to amazing never in between that and to wear this trend look for culottes which his flowy in nature. Then end product of the culottes should look like a flowy skirt but with a modern touch
Black Leather Culottes Outfits
You can start off with some orange colored oversized sweater and then pair them up with some red heels and if you want you can also add a red colored leather bag for extra class.  If you don't like sweater than you can go with a denim shirt, black leather jacket and some black boots. Heels are the perfect footwear for culottes but if you don't want that than you can swap it up some sneakers. For a sport our casual look you can start with a loose sweater, leather culottes and a black handbag.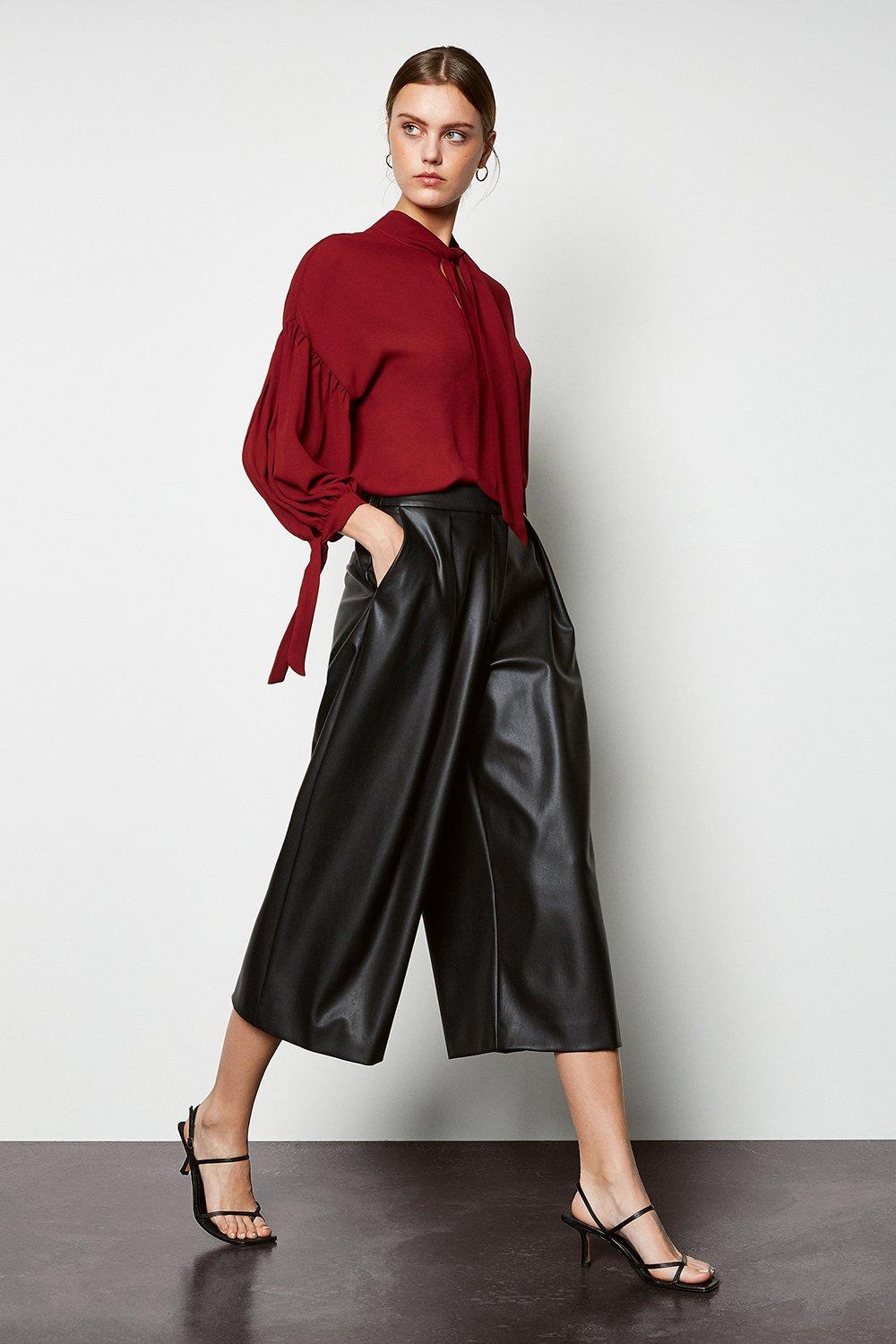 Colorful Leather Culottes Outfits
If you're a fan of neutral colors like black, brown, gray etc. than you can choose any one culottes for example a brown one; you can pair it with a white sweater some gray ankle boots and a beige leather bag for extra class and if it's cold you can get some gray mini coat as well.
 Marsala is also a color that you shouldn't forget. You can go with Marsala shirt and culottes with some cutout boots. You can also pair some striped sweater with pants, leather boots, and a red-colored purse.
TOP YOU WEAR WITH CULOTTES ARE IMPORTANT
Finding the perfect top for your culottes can get a little tough. You can start your search by not making a mistake by picking some heavy top. If you wear a heavy top with your culottes than there are chances that you might drown in fabric. In the top sections keep it simple like a slim silky blouse and if you want a sportier look than you can go with a shirt for a contrasting look.
NO BULKY CULOTTES!!!
Culottes which have some cute pleats look amazing but make sure that you're not buying some bulky ones. Culottes which have extra details or fabric on the waist will just add some extra weight and not looks. Whenever you're buying culottes stay away from all the heavily designed culottes and always look for some clean ones.
If you're one of those girls who are short and cute than make sure you're getting culottes with perfect length because if they aren't than you might look shorter than your actual height.
WHICH SHOES AND BAGS
Mostly culottes end at your calf which can make your legs look a bit heavy so to avoid that you can wear some heel to create an illusion. In heels you can go with anything you like there are no specific one. The size of your heel also doesn't matter as any heel size will do its job.
WHICH IS BETTER, TUCK IN OR TUCK OUT?
It all depends on what your top is, if it's a shirt or blouse than tucking in is the best option. By doing this you will give an hourglass shape looks to your overall attire. If you are chubby than wear a sweater which ends at your hip bone.
If you and your sweater both are slim than you can go with this style too but make sure that you don't have make a wide on the top look.
Culottes have a very flattering cloth but if you don't do it correctly you will look like a girl who is going through some mid-life crisis. If you get the paring game correct than you don't have to worry about anything. So follow the above tips STRICTLY and don't overthink as culottes know how to do the fashion talking.