Years: 1991
In the 1990's European designers began working one on one with tanneries. Novelty skins became popular as tanneries in Italy and France completed with each other to create unique looks. Italian tanneries, working with Versace and Armani, experimented with new colors, prints and treatments, while French tanneries worked with French designers to create some of the thinnest and most subtle skins ever.
Leading European designers continued to work leather into their collections even at the couture level. Gucci, previously known for accessories, branched out into the leather clothing market. And while Thierry Mugler created some of the kinkiest leather pieces, often dominatrix-inspired, Jill Sander took a more classic approach to leather design.
When Gucci moved into leather clothing designs, they were able to bring all their knowledge of leather to the catwalk, creating this sophisticated pink coat and dress ensemble in 1991.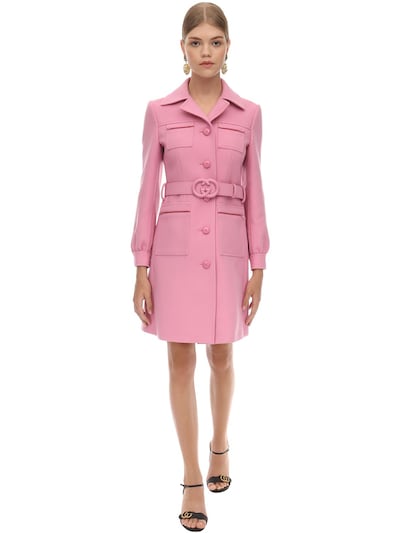 In 1991, Thierry Mugler brought biker style to the catwalk with this zipped, hooded jacket and carefully constructed trousers, which take advantage of the sculptural qualities of leather to add to the dominatrix effect.
Jil Sander's 1991 black coat is luxurious both in its style and its use of leather.
Years: 1992-1993
As the decade progressed, established designers, including Christian Lacroix, began to embrace the use of leather in their collections, while designers new to the fashion scene, such as Azzedine Alaia and Americans Isaac Mizrahi and Byron Lars, added whimsy to their leather designs.

Nothing in this beautifully crafted jacket from 1992 betrays the fact Christian Lacroix had never used leather before. He even added a more luxurious touch by incorporating a snakeskin trim.
Bryon Lar's stylized aviator jacket of 1992, complete with "wings" on its shearling collar and accessorized with a 'helmet' and goggles, shows how leather can be combined with other fabrics; here a knit train is used at the hem and cuffs.
Isaac Mizrahi's 1992 take-off of Bonnie Cashin's pocketbook jacket of 1973 gave a great sense of fun to what otherwise might have been just another black leather jacket.
Although Azzedine Alaia is most known for his sexy, curvy, tight to the body designs, in 1993 he took a softer approach with this pale blue suede cropped jacket and trousers. He took particular advantage of the pieced construction to incorporate decorative seams that were laced together.
Years: 1994-1995

Leather can be sexy or classic. While Claude Montana continued to utilize it to create the fashionable silhouette of the day, and Gianfranco Ferre designed classic styles, Gianni Versace used leather to further his reputation for some of the sexiest clothes to hit the catwalk. Fendi, meanwhile, continued to have a prominent position on the catwalk.

Italian designer Gianfranco Ferre, famous for his white architectural blouses, ventured into leather in 1994 with his beautifully cut, high waisted, cream-colored suede gaucho trousers.
Continuing the safety-pin theme of his 1994 collection, Versace created this contour-hugging black leather cut-out dress, which fitted supermodel Helena Christensen like a corset.
Known for spectacular furs since 1918, Fendi created this burnished, metallic shearling maxi coat in 1995, designed by Karl Lagerfeld.
Years: 1996-1997
Some designers, including Fendi, Ann Demeulemeester, and Gucci, continued to incorporate leather into their collections, often using its properties to create a perfect fit for an increasingly pared-down silhouette, while others, such as Thierry Mugler, continued to flirt with the 'bad girl' theme.
Belgian designer Ann Demeulemeester created goth magic with her chic, black leather floor-length dress in 1997.
Tom Ford created the ultimate 'power suit' for Gucci in 1997, with his broad-shouldered, black leather jacket and skin tight pencil skirt.
Parisian designer Theirry Mugler used all the sculptural qualities that only a fabric like leather can provide to create this sexy bustier and skirt trimmed with feathers in 1997. Each section of leather was individually stamped to emphasize its contours, while the skirt and sleeves were designed to resemble articulated pieces of armour.
Years: 1998-1999
Leather, suede and shearling had a slot in almost every European designer's collection during the late 1990s with Ungaro' s luscious grey shearling jacket and Celine's exquisite tan lambskin coat. Marni's pared-down brown leather funnel neck coat provided a strong contrast.
The generous collar of Ungaro's s short shearling jacket from 1998, fastened with a tie belt, makes good use of the wool face of the skin.
Celine's take on the classic trench coat hit the catwalk in 1999, manufactured with luxurious tan lambskin.
Marni showed this pared-down leather coat with a funnel neck in 1990.