If you're looking for something which will make you look slimmer or want to look fuller then there is something which you should try which isn't related to diet or exercise. Update your wardrobe, yes, this is something which will help you in achieving your preferred look to some extent. By using the correct type of designs and pairing game you should be able to get what you're looking for. Stripes are something which will help you, they are a bit old and can get a bit tough to use but there is no doubt that these are not fashionable.
There are different stripes, horizontal will make you look slim whereas vertical will make you wide and can add some weight to your look.
How to Look Thinner
Initially there are many fashion designs and experts who do say that people who are over-weight should try not to wear clothes which has horizontal strips because it will make them look bulkier but it is the opposite because horizontal stripes does the exact opposite and makes over weight ppl look taller and less bulky.
Therefore, if you're looking to get some concealing then horizontal strips is something which you should look for. Try your best to avoid verticals strips and always go for horizontal stripes as they will make you tummy look less bulky.
When you're choosing your clothes go with darker colors which have light horizontal stripes and the length is up to your top thighs. Avoid any sorts of tucking in as it is better when hanging loose irrespective of your bottom. To complete your outfit, you can add some layering like a blazer or sweater.
If you're body shape is pear then try not to go with tops which have stripes on the bottom as it will eventually highlight your hips. In the color section black is said to be the best option as it is dark and will make you look a bit slim.
How to Wear Stripes
There are a lot of ways you can wear your stripes and are some tips which can help you:
• The simplest and easiest way you can add stripes is by pairing a striped blouse with some jeans and if you're really curvy then an over sized or loose-fitting shirt is something which you should try.
• You can also make another simple outfit which is to pair your striped shirt or any other top with any bottom but black in color. if you're looking to look slim then you don't want to attract eyes to your body therefore you should go the classic way which is to choose the black and white outfit.
• If your top is not fat but you have some curvy bottoms then you can try some vertical stripes and a colored bottom which won't have any effect on your bottom but your top section will be looking better and fuller. You can choose the color on your own and just contrast it. You can try different color combination like black and whiter top with a green colored bottom.
• Everyone has been through some lazy days where you will just wear whatever you find for such days you can just wear a striped tunic top with basic leggings.
• you can try a different outfit as well like pair different apparels like leggings, boots, jersey dress and a cardigan. This combination is versatile and you can wear it to different occasions and if you don't like boots you can swap it for heels.
• If you're going to wear a striped top then you would like to have some different looks by adding some accessorise like vests, tie or a scarf which will give some new look to your outfit. For some better looks you can go for bright colors.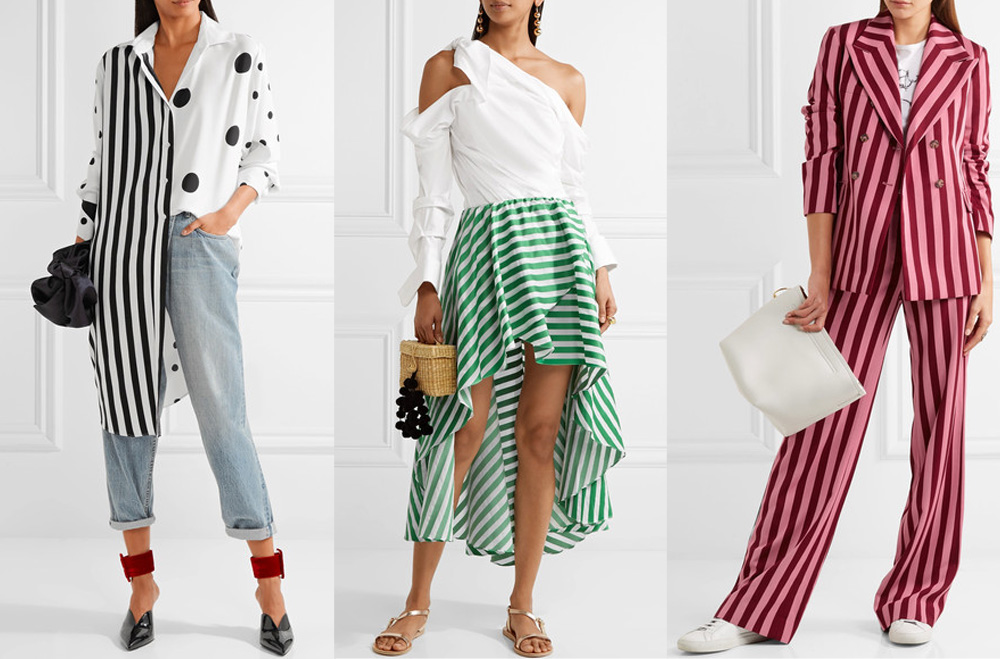 Wearing strips at strips beach
• There are cardigans which you can use to conceal your body. You can start your outfit with a neutral top and then top it off with a cardigan and just finish it off with some skinny bottoms.
• If you're looking for something trendy and a bit casual as well then you can swap your cardigan with some jacket or a blazer leather would be most preferred which is something which you should look for winters. You can try some jeans with these striped tops and some blazer or jacket and end it off with some boots.
• During winters you should try going for with dress and choose a single color for your coats, striped dress and also for your bottoms as well. If this combination is boring for you then there are other options like going with and black on top and then red bottoms.
• go with different colored striped and there are some bright colors for something different and try combining it with some other apparels.
• you can combine your stripes with other neutral colors. If you have started with these stripes then you can try wearing contrasting color with your top. You can pair your striped skirt with a simple top will give you a good-looking attire.
Things which you should remember is if the stripe is wide you will get a bolder look. There are some other stripes like pinstripes which you can try and if you're comfortable then go ahead with the wide stripes.